Co-create a Hybrid Work Playbook
New structures and new practices from remote work to flexible, hybrid work.
Co-create a hybrid work playbook for your organization – get a ready-made project plan
Last year has dramatically changed how we work, collaborate, and communicate – both internally as colleagues and employees and with our customers. As societies are slowly taking steps towards a new normal, we may find that we don't want the new to look the same as the old.
Flexible, hybrid work is here to stay
Many companies have already created guidelines for remote work. Now we need new structures and new practices which enable productive hybrid work.
Companies need to define, for example
What kind of work can be done remotely
Which work requires the presence at the workplace
What kind of employee expectations are there for working in the hybrid model
How do we combine remote and non-remote work efficiently
How do we ensure that everyone can participate equally, regardless of where they work
How to increase well-being and sense of belonging in the hybrid environment
How do we empower people to collaborate in the hybrid work environment
What is it?
Innoduel and Timanttia Consulting have developed an agile model for the co-creation of a hybrid work playbook for organizations. Combining our strong expertise in hybrid work and co-creation into one simple process, we can provide our customers something good!
We believe that it is vital to engage employees in co-creating new guidelines and practices because we are designing things that directly affect their everyday lives. When people are involved in the process from the beginning, they are more likely to commit to the outcomes and are, in general, happier. It's as simple as that.
.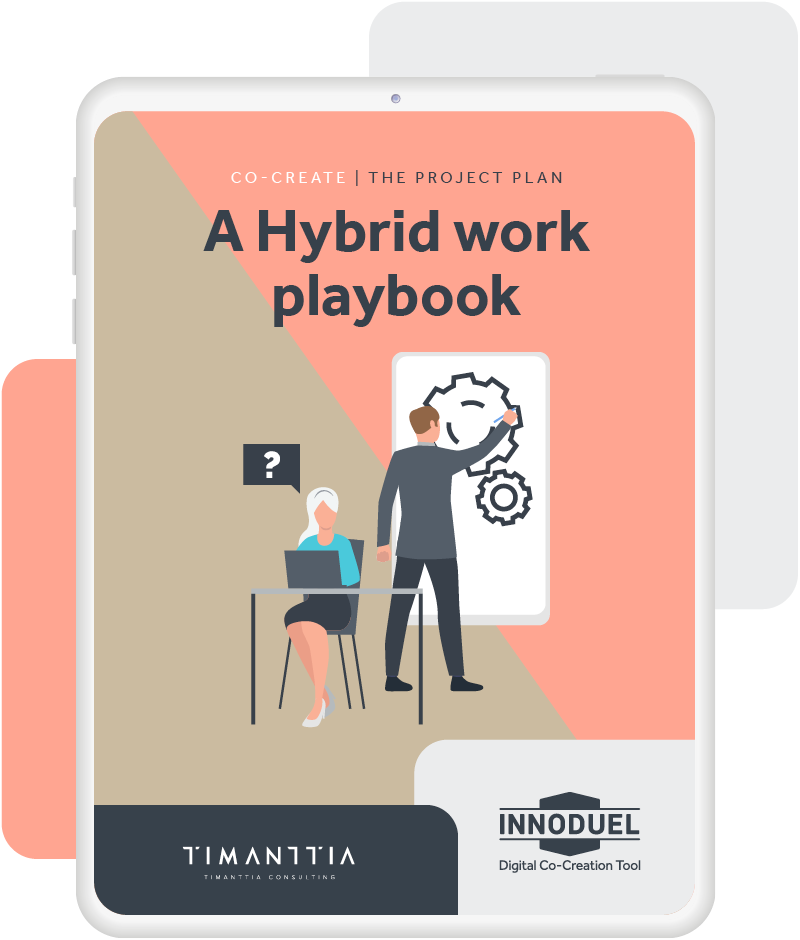 Innoduel is trusted by some of the most forward-thinking companies and organizations